Home Phone: 231-797-5468
Cell Phone: 231-846-0346


Premium Firewood

The Wood Guy will deliver semi loads of premium northern Michigan hardwoods to keep your fires burning all winter long. 10 cord load of oak. This wood is the rest of the tree that won't make a log and the smaller trees that we need to remove first, so we have room to harvest the bigger ones. We chip the tops for the Co-gen plant in cadillac -- total harvesting and proper utilization of the complete tree. Our 8 ft firewood is the best you can buy.
Our 10 Cord Loads Heat The Average House 2 Years
The trailer unloads from the rear. First we remove the chains, then the wooden stakes are pushed out with hydraulic rams, allowing the wood to fall on the ground without placing the operator in any danger of getting hurt upon your property, making a relatively nice neat pile on your land.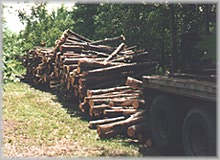 A 4x4x8 ft. cord will cut to approx 2.5 piles (NOT 3 PILES!) of wood 4x8x16 inches (commonly called a rick). A face cord is 4x8x? (no 3rd dimension) just the face is measured. A load weighs approx 40,000 lbs. Total truck weight exceeds 70,000 lbs -- just so you know that asking us to leave the public roadway may cause damage to grass, yard and black top drives. Also septic tank and underground pipes, sprinklers ect. All this must be accounted for before we leave the road way -- (this is the customer's responsibility). The trailer bed is 34 ft. long and we stack the wood on 5ft high x 8ft wide by 34ft long = 10 cord. The wood is measured upon delivery with the customer and inspected for quality on every load. The logs average 10 inches in diameter.

ATTENTION: Smaller diameter wood that is cut and not split will not stack up in volume to what bigger wood that is split will stack to. Same size load different production method, same amount of wood. This is an estimate and we do not guarantee what this load will stack to, it is sold by the load delivered.

Delivery lead time depends on season , supply and demand. Fall is real busy. spring and early summer will assure you better and faster service. smaller loads available. However freight expenses remain the same for the mileage costs ADVANTAGES FOR BUYING 8FT LENGTHS delivered to your house and unloaded at best possible location for you to process it. Top quality wood , recently processed trees with the heating value still in it. You have all your wood at once and delivered when you want it. It can be processed at your convenience eliminates the stress of finding, buying, and hauling from the woods. Also the danger of cutting trees down. This is all done with machines and delivered to you.

For more information about ordering firewood, contact Alan Cox using this form.